Around 1pm, every day of the week, nearly 600 bingo halls across the UK open their doors to thousands of loyal customers. But, although they can be found on almost every British high street, surprisingly few people ever see what goes on inside.

In Bingo & Social Club, photographer Michael Hess opens up this world to a new audience. Behind the often crumbling exteriors, he finds vibrant places full of strong characters, quirky details and more than a hint of nostalgia. In his own words: "I want people to feel that they've spent a night at the bingo – to sense what it feels like to be there."

Michael explains how the project started. "I played bingo one night in 2005, just out of curiosity about what went on inside the big old converted cinema near my house. I was instantly fascinated by the characters. And so the next time I visited, I took my camera. 4 years and more than 60 bingo halls later I was ready to make Bingo & Social Club."

Michael Hess and Maxine Gallagher spent many nights in the clubs, playing bingo, chatting with the managers and customers, and collecting stories from the people they met. They wanted to find out who these people really were. "Bingo halls are not just about gambling; they're about human beings. They really do act as social hubs for many communities."

Jack, the manager of a bingo club in Newcastle, forms the backbone of the book. "He's quite a character – tough and yet extremely dignified – and I knew straight away he could add the extra dimension I was looking for. I've always been inspired by classic movies, and he suited the enigmatic lead role perfectly."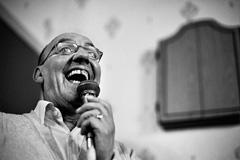 "Curiosity may have killed the cat, but if it weren't for German-born-but-London-based photographer Michael Hess's inquisitiveness, the world would, in our humble opinion, be a poorer place"
Book review by Suzy Prince, Nude Magazine

Read more book reviews and interviews here